Braveheart on a mission to help talented young people into work
Date: 21 June 2022
At Braveheart, we're passionate about people. This includes our own team as well as our current and potential clients. Almost a year ago, with the support of the UK Government backed Kickstart Scheme, we welcomed two new additions to our team, Madison Docherty and Liam Fleming.
The Kickstart Scheme is a UK Government funded scheme that provides funding to create new job placements for 16-24 year olds who are on Universal Credit and at risk of long term unemployment. The scheme allows for businesses to give people a platform to learn, grow and develop professionally and personally, with the aim of taking them on permanently or helping them gain the skills to have a successful career elsewhere.
As part of the Braveheart team, Madison and Liam have gained invaluable hospitality experience travelling across the country working at different venues and events. This has included both learning from experienced team members and bringing fresh ideas and innovative approaches to our catering, bars and operational procedures.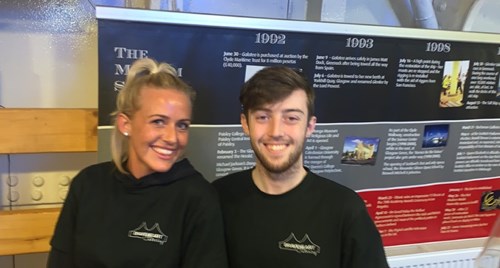 Speaking about her experience with Braveheart so far, Madison said;
"It's been a brilliant journey so far joining the Braveheart team. We have been welcomed abroad by everyone and being able to travel across Scotland meeting so many interesting people and working at some stunning venues makes it even better. I'm loving it and look forward to seeing what the future holds!"
Braveheart Managing Director, Steve Gauld, added;
"Welcoming Madison and Liam to the Braveheart team has been an absolute pleasure. They have brought so much enthusiasm, commitment and great ideas to our work. It has reaffirmed our commitment as a business to help positively support and impact the lives of talented young people, helping them gain skills, experience and have a successful career in hospitality and events."
On completion of their time as part of the Kickstart Scheme, we were thrilled to bring Madison and Liam into the business as permanent team members. We look forward to them being a core part of our business as we embark on a busy and exciting rest of 2022 and beyond!